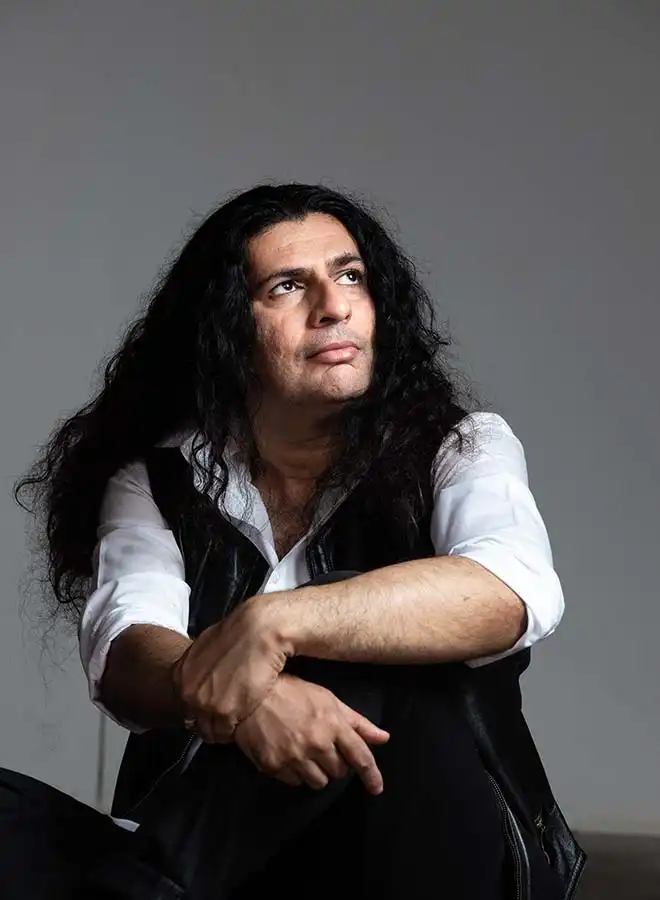 Mostly Somesh Ji performs abroad but when we heard that he is in town our team immediately reached at his hotel to a have a small chat with him. Maestro in Hindustani (Classical, Devotional, Sufi, Folk, Ghazal, Bollywood) and World (Jazz, Blues, Pop, Rock, Lounge, R&B) music, performed over 1600 concerts globally. MBA, Sangeet Visharad and considered a Pandit (Guru/Maestro) Somesh Mathur keeps a low profile, he is modest and grounded Singer – Song Writer – Composer – Music Producer – Visionary – Entrepreneur – and a Living Legend. When asked which is his favourite genre he said that he is not sure that he if can label any as his favourite but given a choice for song writing which is based on a particular raag(melody) and the composition has some scope for elaboration in terms of alap ( vocal music) etc, in English lyrics and if it is produced in a sound of jazz, blues, rock, pop, fusion, funk, a little bit of that, all combined together and a little bit of folk, as a sound, as a music production, and if the song writing is based in a particular raaga, and if the song is written in English or any several other languages. That is my ideal song. 
Apart from English, Somesh Ji has recorded songs in Hindi, Gujarati, Marathi, Urdu, Farsi, Punjabi, Bengali and Spanish also he wishes to explore more languages in future, languages like Kannada, Tamil, Malayalam, Telugu, Bhojpuri etc. He says it's not difficult to sing in languages he doesn't know if he gets the lyrics in Roman Script, a vocal producer of that language while recording to guide him with pronunciations, annunciations and emphasis of the words. Maestro Somesh Mathur has a wide body of work including 24 Albums with 43 Music Videos: Ghalib, Jai Ganesha, Shiva Shlokas, Radhai Ram RadhaiShyam, Ek Nayi Baat, Achcha Hai, Live in Europe etc.
Works of Maestro Somesh Mathur has a commendable record, Wajah Muskurane Ki (Magnasound) – performed at the Grand Finale of Channel [V] Awards, 1997 – sharing stage with Jon Bon Jovi, Sting, Spice Girls, Def Leppard, etc., on completion of 50 years of India's Independence. He has composed for Prominent TV Shows like Cricket With Mohinder Amarnath(Doordarshan); Bade Miyaa Chhote Miyaa (SAB TV); Tehzeeb(Sony); Sun Sun Sun and Music Bazaar (In-Mumbai); Maine Dekha – Tuney Dekha (ETC). He once got connected with RoopRivaaj – an ethnic video magazine in London and also with Break Water – English T.V. Series, shot in Mauritius, produced in London
While performing abroad he has experienced that the western countries are open to new songs so when he sings Indian classical or fusion they never get up and leave. He believes that now is the time that Indian music manifests itself on a global level with the correct medium and support of the people. He also mentions that audiences mostly want to hear some familiar stuff according to his observation the familiar stuff syndrome is a lot more in India than overseas. Overseas audience want to listen to fresh stuff but in India as people are more Bollywood centric so they need the same music so it's a bit of a challenge for the independent music. Somesh ji have also appeared in couple of films in Bollywood but these were only special appearances on request of his friends in the industry. "Doors are open for everything", he says when asked if he will work in Bollywood if offered in future because his plan is to disseminate his idea, his belief on any possible platform globally.
Somesh Ji have composed a BANK of over 200 songs, belonging to most Genres and has received recognition for thematic music (lyrics and music) for social causes – Girl Child, Caste System, Women Empowerment, Farmers Anthem etc.
Somesh ji has also conceptualized and set up SWEET BEATS – a unique music start-up, for the upliftment of FOLK Artists living in abject poverty, and for creating, producing and managing Indian & International Music and Artistes, and also to establish Indian Music, Literature, Art, Craft, Dance & Culture, as a Global Genre, and Indian Artists as Global Brands, respectively. This Genre is called 'BHAARAT'. He believes that such type of activity will help them to get regular income for the artists who live in poverty so they are in need to be brought up. So when a folk singer works it not only promotes the culture but also allows the person to live with dignity. He/she is not ostracized in the society anymore so all these are social phenomena and if through music disseminated well systematically and if on a global level might have a cascading effect on the society. According to him it will be a "win win" situation for the society, the person's talent, for our culture, for the government, it also helps in establishing our "bharatvarsha"(India) as a superpower which he says that we have the potential of becoming once again. It just needs to be tapped in the right way.
"One has to be selfless in this whole activity, it's not like if we have the money, we must keep all the money, we should distribute the money so automatically everyone comes out with their talent", says Somesh Ji. He understands that everyone needs money for living and finance is very important and if money is used systematically and distributed evenly. "We must think local and act global, right now people are thinking local and acting global, that's why reach is very limited, hence, it is very individual centric, it's not a movement, when there a government support then it becomes a movement." says SomeshJi. He welcomes like-minded people to join him and help the country and the society to develop. "If you have million dollars then how many Rolls Royce will you buy?" he laughs.
A winner of MTV Video Music Award (2005-6) for Album ASHA – An Album, with Asha Bhosle. When asked about his experience with the legendary Asha Bhosle Ji he said, "It was an exhilarating experience, a very unique experience, I am very privileged and honored to work with a living legend like her and she is very whilst and inherently she has a side which is very funny and at the same time she is a very serious and committed artist, a very committed vocalist and the beauty is that she loves to sing, regardless of where she is and she once said to me that main toh mic ke samne gaate gaate jaungi (I will die while singing in front of the mic) and that's the commitment of her to her art and before we started recording for my album she did a lot of riyaz (practice), even when she had no recording and we were dubbing other instruments, she used to come and hang with us. It was a mind blowing experience and by the divine grace the album was a big hit. It did a lot of good of all of us including Asha Ji. It was something which was gratifying and rewarding for me".